News / Ronald Acuna
1. Mike Trout, Angels - Last season Trout set career highs in on-base percentage (.460), HR (39), walks (122) and OPS + (199) and still finished runner-up in the MVP voting because we have become accustomed to how great he really is.  By far the best player in the game right now and perhaps ever when all is said and done.  If Trout played on the east coast he would already have 5 MVP Awards to his name and if he played on a playoff team it would be 6.
2. Mookie Betts, Red Sox - Not the biggest guy on the baseball diamond but Betts played like a giant last season in getting his first MVP Award.  While his postseason stats weren't great he still helped the Red Sox win the World Series, won a Gold Glove and Silver Slugger along with his MVP hardware and a ridiculous 10.9 WAR season (21st best all-time) to boot.
3. Francisco Lindor, Indians - I'll always admit I got a soft spot for short stops because to me it's the 2nd hardest position to play in the game after catcher.  What Lindor has been doing his first 4 seasons at SS is mind boggling.  Last season he set career highs in runs (MLB leading 129), HRs (38), RBI (92), SB (25), OPS (.871) and WAR (7.9) and he hasn't even reached his mid 20's.  It's gonna be scary to see what kind of numbers Lindor puts up when he reaches his peak (age 26-29).
4. Max Scherzer, Nationals - Since Scherzer joined the Nationals the two-eyed cyclop has been the game's best pitcher.  Scherzer almost joined Greg Maddux/Randy Johnson elite status last season by winning his 3rd straight Cy Young but finished 2nd to deGrom.  Not many pitchers ever live up to their big contracts in their mid 30's but Scherzer has been a bargain for the Nats.
5. Nolan Arenado, Rockies - Baseball's newest member of the $200 million club might be the most underrated superstar in the game.  Arenado has won a Gold Glove in all 6 of his MLB seasons while averaging 40 HR, 130 RBI, and 350 total bases.  The games best 3B will be looking to win his first MVP Award this season after finishing the top 8 the past 4 seasons.
6. Jacob deGrom, Mets -  deGrom was more known for his long hair and being Thor's teammate before his Cy Young performance last season.  With his new hair cut deGrom put up an incredible 1.70 ERA, 10 WAR, while striking out 269 batters in 217 innings.
7. Christian Yelich, Brewers - Yelich 1st season in Milwaukee was a rousing success as he captured his first MVP Award while helping the Brewers reach the postseason by winning the NL Central.  Yelich won his first batting title (.326) and also led the league in SLG (.598) and OPS (1.000) while hitting a career high 36 HRs, 110 RBI, and 22 SB.  Just entering his prime the Brewers have Yelich locked up till his 30's hit at a bargain price tag.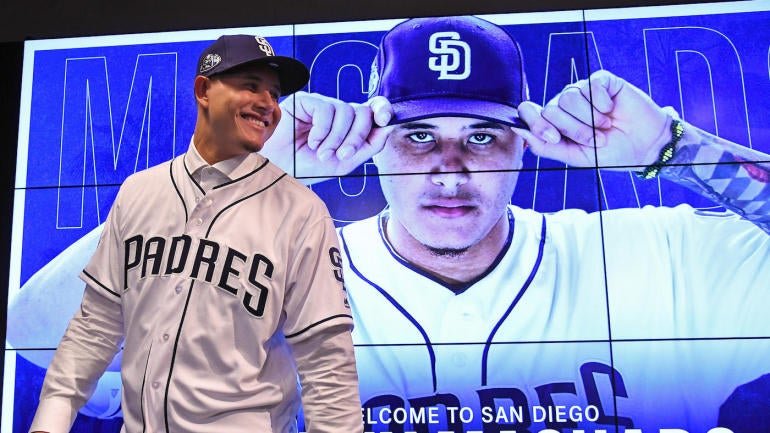 8. Manny Machado, Padres - Manny used his free agency year to put up career highs in HR (37), RBI (107), OPS (.905) and get a huge contract with the Padres where he will go back to 3B to play platinum glove defense.  While he isn't known for his hustle Machado will be looked upon to lead a young Padres club that is loaded with young talent.
9. Corey Kluber, Indians - I feel almost ashamed to have the "Klubot" this low on the list.  The 2-time Cy Young winner won 20 games for the first time last season while leading the league in innings pitched (215), striking out 222 and only walking 34 batters.  He's finished in the top 3 in Cy Young voting 4 of the last 5 seasons and only getting stronger.
10. Ronald Acuna Jr, Braves - Our youngest player on the list (20) Acuna took the major leagues by storm and won the Rookie of the Year while hitting 26 HR and posting a .917 OPS.  Only greats like Mike Trout and Ken Griffey Jr. whom Acuna has been compared to put up similar numbers at a young age.
ORDER THE OFFICIAL ACUNA MATATA SHIRT HERE!
Read more →
---


MLB's #1 prospect Ronald Acuna Jr. made his presence known early vs the Yankees with this absolute Hiroshima bomb off of Masahiro Tanaka. Acuna Jr is batting in the 5 hole today and is 2-2 so far with a stolen base following yesterday's 2-4 with 2 RBIs and a stolen base performance in the leadoff spot. The Braves won't start Acuna Jr on Opening Day because they are cheap and would rather delay his free agency 7 years down the road but this dude better be up in Atlanta fast. He's too damn good to keep in the minors and I would love to see him plugged in at the 2 hole behind Ender Inciarte with Freddie Freeman providing protection.
GET THE ORIGINAL "ACUÑA MATATA" T-SHIRT HERE!
Read more →
---
"To be honest, I want to make that decision as hard for them as possible."@Braves top prospect Ronald Acuña on pushing to make the team's 2018 Opening Day roster. pic.twitter.com/LBCv6qAipM

— FOX Sports: Braves (@FOXSportsBraves) February 15, 2018
I'm going to try to keep my fanboy excitement down as much as possible but I feel like I need to go on record here: Ronald Acuna is going to be a superstar.  I'm not talking 5 or 10 years down the road for MLB's #1 overall prospect I'm talking this summer at SunTrust Park.  
Acuna will be what Aaron Judge was with the Yankees last summer.  Acuna's 20-year-old baby face is going to be everywhere.  I haven't been this excited for a Braves prospect since Andruw Jones came up in the mid 90's.
Last year Acuna was the minor league baseball player of the year after hitting .325/.374/.522 across three levels of affiliates in the Braves system.  Along with his 60 extra base hits and 44 steals Acuna plays a terrific centerfield but will more than likely play a corner OF position in Atlanta with Gold Glove winner Ender Inciarte entrenched in center.  Still in his teens at the time Acuna has played three years now in the Braves minor league system since being signed out of Venezuela and has shown remarkable improvement at every level.
Of course one could argue it would be the prudent business decision for the Braves to keep Acuna in the minors after breaking spring training camp.  This would save the Braves a year of service time if they call him up in May.  Basically it would delay Acuna's free agency year to 2025 instead of 2024.  But if Acuna is as good as people think the Braves better have a long term contract in the works way before free agency looms.  Which is why I believe if Acuna crushes it in Spring Training as I expect he will he needs to be in the starting line up come April in Atlanta.
"I showed up early to try and win this roster spot and prove that I'm ready and give it my all," said Acuna.  This isn't Acuna's first visit to Braves spring training camp in Orlando.  Last year he played in 13 Grapefruit league games and hit .296 in 27 at-bats.  

"I was hoping they would invite me to come to the spring training camp and give me an opportunity to fight for a roster spot," he said.
If the Braves want to create some excitement for this season after 4 long rebuilding years it would be nice to see Acuna in a #24 jersey come spring.  He's proven he can already hit at AAA Gwinnett so a little bit more of minor league seasoning isn't gonna do much but show that the Braves are being cheap.  A young lineup with Ender, Dansby Swanson, Ozzie Albies, Freddie Freeman, and Acuna would put a lot of asses in the seats with a lot of runs on the board. 
Chop on!
P.S - Acuna you aren't fooling me with this "No speaka English" Vladimir Guerrero act you got going.  3 years of traveling in buses all around the Southeast will teach you all you need to know about the English language.  It will also teach a lot about whiskey and women but that's another story for another day.
SHOP FOR RONALD ACUNA AUTOGRAPHS

Read more →
---
---
---