News / Notre Dame recruiting
Starting today Notre Dame football has a huge recruiting weekend with four 2020 prospects visiting and multiple 2020 top recruits making the trek to Notre Dame's campus.  For some it will be their first time visiting while others have visited multiple times.
Let's take a look at the 2020 prospects visiting this weekend...
Chris Tyree RB, #1 APB, Virginia- Arguably the #1 prospect on Notre Dame's recruiting board overall for the 2020 class.  This will be the nation's #1 all-purpose back 2nd visit to Notre Dame after an unofficial visit in December for Junior Day.  New RB coach Lance Taylor will have his first in-person talk with Tyree on campus starting today and will be looking to make headway for the fastest RB prospect on ND's board for at least the last 10 years from what I can recall.  Landing a RB of Tyree's stature is a MUST for Coach Taylor and was the main reason why he was brought in to ND to secure top recruits commitments at the RB position.  Taylor and the Fighting Irish will be in a dog fight for Tyree with top programs like Alabama and Oklahoma and many others also heavily recruiting the Virginia product.  Tyree will also be making an official visit in June.  The fact that Tyree is paying on his own dime to visit ND for a 2nd time this weekend is huge.  I don't expect a verbal commitment but ND could in my opinion hit a home run with Tyree with current players showing him what life is like on campus and getting him a feel for the team and the coaching staff to at least put them in the lead for his services.     
📍☘️

— Chris Tyree4️⃣ (@chris_tyree4) March 22, 2019

Tirek Murphy RB, New York - Another 4-star prospect at the RB position who will be visiting Notre Dame this weekend on an unofficial.  This is Murphy's first visit to ND and he will be bringing his mom which tends to work heavily for Notre Dame's favor when they can get mom on board.  While Tyree is the #1 prospect on ND RB board there is no doubt ND and the coaching staff would take a commitment from Murphy and make room for two RBs in this class.  This will be Murphy's first in-person meeting with Coach Taylor too.  He's not even been a month on the job but the fact that Taylor already has two of the nation's best RBs visiting on their own dime speaks volumes.  Murphy will also be visiting Alabama and Oregon in the future but just reading the tea leaves I think ND is in the driver's seat for his services.
☘️☘️☘️ Irish Bound This Weekend ! @CoachLT39 @NDFootball @aarynkearney pic.twitter.com/9IBZ8Ugtfe

— 4 (@Tirek_Jr) March 21, 2019
Cody Simon LB, New Jersey - You may recognize the last name as his brother Shayne is a freshman linebacker currently at Notre Dame.  ND has signed 8 linebackers in the last two classes so getting Cody's services isn't a must get for the Fighting Irish staff.  But make no mistake ND would love to add another 4-star linebacker like Simon and will probably be in a battle with Penn State for his commitment.  Don't bank on just because his brother plays at ND that Cody is a sure fire commitment for the Irish.  ND has a lot of work to do for Cody and this weekend's unofficial visit should hopefully get them another visit in the future.  The Ademilola twins also played with Cody in high school so he's got a lot of familiarity with some of the players.  Defensive coordinator Clark Lea is also a big fan of Cody and why wouldn't he be after looking at these highlights...
Purchase the LEA-GION of DOOM Shirt Here!
Zak Zinter OL, Massachusetts - This will be big Zak's 2nd visit to Notre Dame after visiting for the Ball State game in the fall.  Looks to be more of a guard prospect than tackle even though he has a tackle body.  ND should be in a battle with in-state Boston College for Zinter's services.  Numbers are low on takes in this class at the offensive line so don't be surprised if Zinter decides to jump aboard with a commitment this weekend.  Zinter is a top 200 prospect overall in the nation and would be a tremendous get for the Fighting Irish and line coach Jeff Quinn.
The 2021 class visits this weekend include two Georgia WR prospects in Jaquez Smith and Deion Colzie.  Both have offers from Notre Dame.  This will be Smith's 1st visit to ND and Colzie's 2nd visit.  Smith is an Atlanta prospect that has offers from the likes of Georgia, LSU, and Michigan.  Colzie is an Athens prospect but only has one offer and it's not from UGA, it's Tennessee.  The more Georgia peach products on the roster the better in my opinion for Notre Dame.
In-state Avon, IN offensive tackle Blake Fisher is ND #1 recruit on the offensive line for the 2021 class and will be on another unofficial visit to ND this weekend after visiting multiple times.  Fisher has offers from all the big-time programs across the nation even though he's only a sophomore.  He will be a tough pull because schools like Alabama and Ohio State are going after Fisher.  Fisher could be a 5-star prospect when all is said and done and definitely has a 5-star offer list.
Another offensive linemen visiting this weekend is Landon Tengwall.  The 6'6 300 lb prospect already has offers from all the big schools (Alabama, UGA, Michigan, etc.) like Fisher.  Tengwall is out of Maryland and goes to Good Counsel HS which has produced another Notre Dame offensive lineman in Sam Mustipher.  He also played with incoming freshman Cam Hart at Good Counsel.  I like Notre Dame's chances here.
Purchase Tailgate Like A Champion Touchdown Jesus T-Shirt Here!
Read more →
---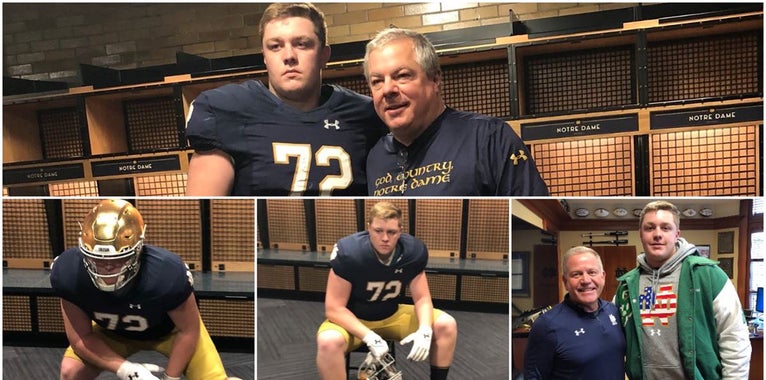 St. Joseph (Metuchen, NJ) offensive tackle John Olmstead is the #1 overall high school recruit in the state of New Jersey and just finished taking a visit to Rutgers last week before deciding Notre Dame would be where he plays his collegiate ball after his senior season in 2018.
What stood out about Notre Dame?
"Notre Dame, the tradition and the faith and everything to do with it, and just the history behind that football program and obviously they have great people there, too," said Olmstead to NJ.com.
"For me, it was a feeling thing. I'm sure you can ask any recruit when they commit. They just know. They get that feeling when they are on the campus."
Olmstead, the massive 6-foot-6, 303-pound four-star offensive tackle is the first offensive linemen recruit for the 2019 Notre Dame class.  Olmstead also represents the first player on the offensive side of the ball after QB Cade McNamara de committed and decided khakis were more comfortable than the blue and gold.  
The athletic Olmstead chose Notre Dame over 35 other schools, some of the most prominent including Wisconsin, Penn State, Rutgers, Ohio State, Ole Miss, Michigan, Minnesota, LSU and FSU.
With Olmstead making his commitment public right before this Saturday's annual Blue-Gold spring game look for recruiting to pick up for Notre Dame with a plethora of other potential recruits ready to commit.  Some of those recruits names include another top 10 OT in Quinn Carroll (Edina, MN) who could line up next to Olmstead in the trenches.  Another name I've heard close to making his commitment public is safety Kyle Hamilton out of Atlanta (Marist HS) who is visiting UGA this weekend. 

Olmstead is an exceptional athlete for his size. His biggest asset is his footwork and speed. He's a three-year starter for St. Joseph and probable captain.  He's projected to play tackle at Notre Dame once he adds a little more strength to his frame which is already collegiate ready.
Landing Olmstead is also a major coup for new ND offensive line coach Jeff Quinn.  Quinn's hire received considerable backlash among ND recruiting pundits because of a perceived weakness in his recruiting prowess.  But Quinn was able to recruit and keep Luke Jones in the fold after Harry Hiestand left for the Chicago Bears job and also flipped Jarrett Patterson on signing day from Arizona State.
Could we be looking at the next Mike McGlinchey at left tackle in Olmstead?  Only time will tell but it doesn't hurt Notre Dame to land a top 100 overall player in the nation who everybody wanted and who could potentially play himself up to a 5-star player in final evaluations.
You can check out John Olmstead's highlights if you are into those things at this link.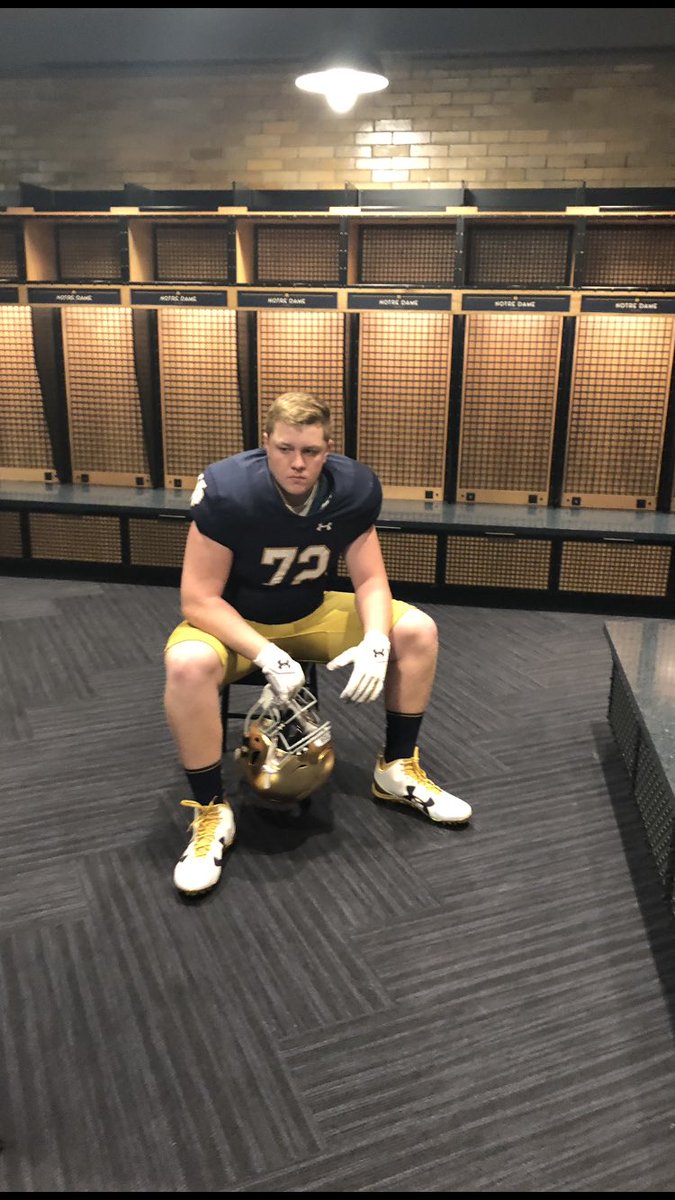 SHOP NOTRE DAME WILSON FOOTBALLS
Read more →
---
---
---