News / 2019 college football preview
Finally college football season is upon us.  Unfortunately we started off with a dud of a Florida-Miami Saturday night game that resembled more of a prison yard battle than an actual clean football game with all the penalties and turnovers involved. 
Even the ole ball coach Steve Spurrier thought it was too painful to watch.
Steve Spurrier watching Feleipe Franks play Quarterback 😂 pic.twitter.com/VsR8B6yKPx

— Big Cat (@BarstoolBigCat) August 25, 2019
But I think we all kind of knew Florida (preseason #8) was overrated going into this season and Miami is basically rebuilding from the ground up with a first year coach in Manny Diaz and a freshman QB starting. 
This week the hunt for the 2019 college football playoffs begins.  It's also why college football is the greatest sport known to man.  Every game means something.  One single loss in week 1 all the way to week 15/16 can dismantle a playoff run.  With only 4 teams eligible for the playoffs it makes every single game intense no matter who is playing.  Last year we saw an unprecedented 3 teams go undefeated (Clemson, Alabama and Notre Dame) during the regular season to reach the playoffs.  Don't expect the same to happen this season.  Undefeated regular seasons are hard to come by and as great as Nick Saban is as a coach he only has one undefeated season on his legendary resume.
Let's take a look at this season with some predictions of what I think will happen.
COLLEGE FOOTBALL PLAYOFFS PREDICTIONS
1) Clemson Tigers - The only team to ever go 15-0 in modern college football history returns the nation's best quarterback in Trevor Lawrence and one could argue maybe the nation's best running back in Travis Etienne and the nation's best duo of wide receivers in Tee Higgins and Justyn Ross.  Simply put the Tigers are gonna put up a shitload of points again this season and nobody is gonna stop their offense except maybe themselves.  Lawrence has the benefit of a season under his belt and Clemson has the pedigree to run through a rather pedestrian ACC schedule unscathed.  In fact I would be shocked if they lost before the playoffs.  Head coach Dabo Swinney will have them ready and hungry.  Despite the massive turnover on the defensive side of the ball most notably the front seven Clemson just reloads there with blue chip prospects ready to step up.
2) Alabama Crimson Tide - No one saw the 44-16 thrashing Bama took in the championship game to Clemson coming.  Not even Clemson and you sure as shit know Nick Saban didn't expect it.  I expect a very mean and focused Bama squad this season.  Last year they were being discussed as one of the greatest teams ever (I was leading the argument for it) and got caught up in their own headlines.  This year I expect Saban to unleash hell on the SEC like he did all last season.  With QB Tua Tagovailoa back and plenty of elite offensive weapons at his disposal the Tide will compete with Clemson for the best offense in the nation.  While the Tide face a little more daunting schedule in the SEC I'm not a firm believer in LSU, Auburn or Texas A&M knocking them off.  Expect Bama to look to their 2nd string QB in the SEC Championship to again knock the Dawgs out of the playoff picture.
3) Notre Dame Fighting Irish - Coming off an undefeated regular season (2nd in 6 years) Notre Dame again got embarrassed on the big bowl stage, losing to Clemson in the playoffs 30-3.  While Clemson players have stated Notre Dame and not Alabama was the tougher opponent in the playoffs it's time for ND to step it up to another level and win a NY6 Bowl game.  The good news is the majority of their starters return on both sides of the ball and the entire coaching staff is back minus the upgrade at RB coach (Lance Taylor).  QB Ian Book is back and will be looking to build off a tremendous 2018 performance in which he set an ND record completing 68.3% of his passes.  Playmakers like WR Chase Claypool and RB Jafar Armstrong should have breakout seasons and with 4 starters back on the offensive line the running game should be stout.  Defensively ND has the best duo in the nation in edge rushers with seniors Julian Okwara and Khalid Kareem back as starters and top notch talent such as Daelin Hayes rotating in.  The linebackers are inexperienced in terms of PT but the talent is there.  The secondary is one of the nation's best with safeties Alohi Gilman and Jalen Elliott back along with CB Troy Pride.  This will be Notre Dame's most talented and deepest team since 1993.  With road night games at UGA, Michigan and Stanford being extremely daunting I expect ND to win 2 of those 3 and squeeze into the playoffs at 11-1.  I'm sure everybody will take it in stride with no arguments. 
4) Texas Longhorns - Yes, Texas is in fact back!  Last year the Longhorns beat Oklahoma and UGA.  Building up the program has been Tom Herman's goal since arriving and with 10 wins last season including a dominating Sugar Bowl performance vs UGA he appears to be on his way.  QB Sam Ehlinger returns and should be a top 5 Heisman Trophy candidate.  I think Texas beats an overrated LSU squad early in the season and while I see them eventually dropping a game vs either Oklahoma or Iowa State I think they win the Big 12 title and finish 12-1.
National Champion - Clemson Tigers
Yes they got the bulls eye on their backs this season and everybody will give the defending champs their best shot.  But in the end the combination of Trevor Lawrence and Dabo Swinney will be too much for Texas in the semifinals and then Bama in the Natty.  Lawrence and Swinney will both stamp their college football legendary status with another convincing championship win over Bama. 
Most Overrated Team - Michigan Wolverines
I feel like this has become an annual thing with Michigan.  They have only won a 1/2 National Championship in the last 80 something years but still get put in the top 10 preseason every year.  Last year's Michigan team will be better than this year and that's not saying much.  They got blown out by Ohio State and Florida to end the season.  Ohio State, Notre Dame and Wisconsin look like losses to me on their schedule and it wouldn't surprise me at all to see Army beat them in the 2nd week.  They are not a top 10 team and not worthy of being ranked #7 preseason.
Most Underrated Team - Notre Dame Fighting Irish
Notre Dame was the third best team in the country last year and look to again be the third best team when all is said and done.  This is Brian Kelly's deepest team in his 10th season.  It's also a veteran squad with plenty of leadership ready to get ND to the next level.  Ranked 9th in the preseason is short changing ND and should provide a chip to their shoulders mentality.
Coach of the Year - Dabo Swinney, Clemson Tigers
I got Clemson going back-to-back and winning their 3rd National Championship in the last 4 years.  If that's not Coach of the Year status for Dabo then I don't know what is.
Heisman Trophy Winner - Tua Tagovailoa, Alabama
While I think Trevor Lawrence is the better QB I think Heisman voters will have a hard time ignoring the incredible stats Tua will put up this season for a 2nd straight year.  Last year it took a remarkable run by Kyler Murray to steal the Heisman from Tua who was leading on most ballots for most of the season.  This year Tua edges out Lawrence to get the Heisman to delay Lawrence from getting his first in 2020.
Buy the official Roll He13man Roll Shirt HERE!
Bold Prediction - Georgia will have a playoff berth all but wrapped up only to see Kirby Smart inadvertently go for it on 4th and long vs Alabama in the SEC Championship.  Jake Fromm will get sacked and Bama will score in the final 20 seconds to send themselves back to a 6th straight playoff berth.  Meanwhile UGA will be leapfrogged by an one-loss Notre Dame team whom they narrowly beat in September and an one-loss Texas Longhorns team who soundly beats Oklahoma to win the Big 12.  Barking will intensify to Mark Richt-er scale levels in the great state of Georgia.
Read more →
---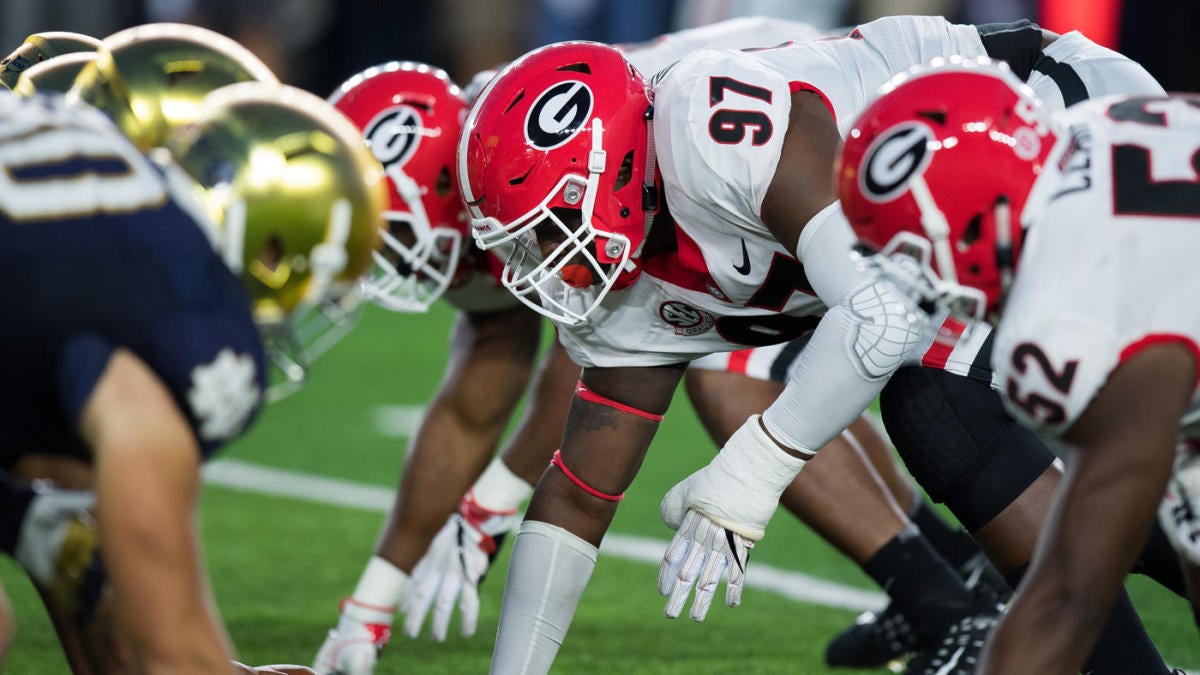 Hold your seats everybody we are officially less than one month away till college football kicks off.  One of the best things about college football starting is we get a ton of great non-conference battles early on in the season before conference play kicks in.
Here are the top 10 best non-conference games of the year which will help shape the College Football Playoff come December:
1. Notre Dame at Georgia, Sept. 21

Not only is this the best non-conference game of the season but it's the best overall game of the year regardless of conference affiliation.  Both programs should be in the top 5, undefeated "under the lights" in Sanford Stadium.  There also could be some bad blood since a lot of Georgia players decided to Twitter trash talk when Clemson rolled over ND in the Cotton Bowl playoff game.  For some odd reason UGA thought they belonged in the playoffs over ND even with two losses on their resume.  UGA went on to play Texas in the Sugar Bowl and got ran over by Bevo pregame and by the Longhorns players throughout.  Both teams are legit playoff contenders again this season.  This is also only the 3rd matchup between the two teams with UGA winning a close one in 2017 in South Bend 20-19.  This game is also the hottest ticket on the market as it will mark the first time Notre Dame has played "between the hedges."  This game is so big that it was recently announced it would be played on CBS in prime time, under the lights, while bumping the traditional Alabama - LSU clash in November to a 3:30 start.  Not only are playoff implications on the line but possible Heisman Trophy contention could be decided as top 10 favorites Jake Fromm will battle it out with Ian Book.
Domers Vs Dawgs 2019 Shirt #CFB #goirish #godawgshttps://t.co/c8rkcc8Zk7

— SportsCrack Apparel (@sportscrack) July 22, 2019
2. LSU at Texas, Sept. 7

Can we really say "Texas is back!" this year?  Yes.  Yes we can.  How many teams beat both Oklahoma and Georgia last season?  Only one.  Those fighting McConaugheys.  All right all right.  Texas has their Tim Tebow-like QB back in Sam Ehlinger and will face a fired up LSU squad looking to beat up on a team they share a border with but rarely face.  This game in just the 2nd week of the season will help determine if Texas is really back under Tom Herman and if LSU can contend to make a playoff this season.
3. Auburn vs. Oregon, AT&T Stadium (Arlington, Texas), Aug. 31
Kudos goes out to Auburn for scheduling another PAC-12 team out of conference.  Last season they beat Washington, who went on to win the conference, in Atlanta opening weekend.  This year they face the Ducks, who some say can win the PAC 12 under Mario Cristobal, in Jerry World.  Oregon has their QB back for his senior season in Justin Herbert who will be looking to make a Heisman push opening weekend vs a good Auburn pass rush.  Auburn will be looking to make a national push under coach Gus Malzahn.  If Auburn loses this game Malzahn will be on the hot seat all year as they have road games at Texas A&M, Florida and LSU not to mention games vs Georgia and rival Bama too.  This is a must win for the Gus Bus.
4. Texas A&M at Clemson, Sept. 7
The Aggies came the closest to beating Clemson last year as they went down to the wire in a thrilling game in College Station.  As we all know once freshman QB Trevor Lawrence was injected into the starting lineup shortly after no one stood  a chance as Clemson rolled to one of the best, if not-the-best, seasons in college football history 15-0.  Jimbo Fisher will be looking to build off a positive first season with the Aggies but is gonna have his hands full trying to stop Lawrence and WRU studs Justyn Ross and Tee Higgins not to mention RB Travis Etienne.  Right now this looks like it could be Clemson's toughest test of the season as they have to replace their entire defensive front.
5. Miami vs. Florida, Camping World Stadium (Orlando, Florida), Aug. 24
The first official college football game of the season comes early vs two in-state teams that hate each other even though they don't face each other very often.  This will be Miami head coach Manny Diaz's first game at Da U as he is looking to bring the swag back to South Beach which apparently left a long time ago.  He's gonna have his hands full as of now they still haven't got a starting QB named.  Florida will be looking to build off a solid 10-win season under coach Dan Mullen in year 1 which included a blowout of Michigan in the bowl game.  This game August 24th in Orlando is gonna be so hot and disgusting that it should probably be rated NC-17 as clearly the viewing is not intended for minors.  As a college football fan I fucking love it.
6. Notre Dame at Michigan, Oct. 26
Catholics vs Khakis is back!  For the first time that I can recall this game between the two bitter rivals will not come in early September, instead it's in late October.  The Khakis will be looking for revenge as Harbaugh's Michigan team got pushed around last year in South Bend.  This year for some strange reason Michigan is again ranked by many pundits to be a top 5 program and will be looking to make a statement vs Brian Kelly's potential top 5 squad.  ND will be coming off battles vs UGA and USC but they have a bye week heading into Ann Arbor which should help returning QB Ian Book prepare against a revamped Wolverines defense that got scorched by Ohio State and Florida to end the season.  Both programs could be in playoff contention come kickoff but whomever loses will most certainly have those playoff aspirations dick punched.
 Order the classic "Ann Arbor is a Whore" Shirt Here
 7. Stanford at UCF, Sept. 14
The "back-to-back undefeated National Champs" UCF saw their 25-game winning streak end last season in the Fiesta Bowl vs LSU and will be looking to make a statement vs the might conifers of Stanford.  This is a huge game for both programs as Stanford will be looking to rebound after a disappointing 2018 season with senior QB K.J. Costello back.  UCF will be looking to start a new winning streak under ND transfer QB Brandon Wimbush behind center.  I'm not sure how much playoff implications are on the line here but we know for sure who ever loses will not be in it.  For the UCF haters out there that could be music to their ears.
8. Houston at Oklahoma, Aug. 31
Dana Holgorsen makes his Houston debut against powerhouse Oklahoma in Norman.  Holgorsen will look to put a ton of points on the board with senior QB D'Eriq King who accounted for 51 TDS last season.  Oklahoma not to be outdone will debut Alabama transfer QB Jalen Hurts who will be looking to keep the Heisman Trophy transfer winning streak going under QB whisperer Lincoln Riley.  If you like shootouts this could be the most entertaining game of the season in week 1.
9. Florida State vs. Boise State, TIAA Bank Field (Jacksonville, Florida), Aug. 31
We all know Willie Taggart had an "interesting" first year in Tallahassee which saw the Seminoles winning record and bowl streak come to an end last year.  Taggart will be looking to get off to a good start vs an underrated Boise State team who remains one of the top non Power 5 teams in the country.  If Taggart loses this game basically at home even though it's in Jacksonville the tomahawk chop could quickly become pink slip chops for himself and the AD.
10. Nebraska at Colorado, Sept. 7

Frost is coming early to Boulder!  Scott Frost will be looking to build off a positive 2nd half of his 1st season in Lincoln with a road win at Colorado.  The former Big Eight rivals played last season in a game that went down to the wire 33-28 in favor of the Buffaloes.  Nebraska QB Adrian Martinez returns and brings a dynamic punch for the Cornhuskers offense.  While it's just year 2 this game could be used as a major statement for Frost and company especially when it comes to recruiting on the national stage.  But let's be honest there are no playoff implications in this game.
Others:
Army at Michigan, Sept. 7: ESPN currently has this game as Michigan with a 95.5% chance of winning at home.  I'm not so sure about that.  I think Army could pull the upset especially coming off a 10-2 season in which one of the losses was in overtime to Oklahoma.
Oklahoma at UCLA, Sept. 14: Chip Kelly's offense vs Lincoln Riley's offense should be entertaining for the first quarter till Oklahoma torches them in the Rose Bowl.
Pitt at Penn State, Sept. 14: The old "EAT SHIT PITT" rivalry game between two in-state programs should be entertaining even with both programs looking at rebuilding years.
Read more →
---
---
---