These rising sophomores are expected to contribute in a big way for the Fighting Irish this fall.
Center Jarrett Patterson - Patterson made the transition from tackle to center in the spring with no issues.  In fact he locked on to the starters job early replacing departing senior Sam Mustipher.  Patterson will be the only starter on the line with no starting experience but he's been getting rave reviews all spring, summer and now fall.
WR Lawrence Keys III - Initially Keys was not on my list at all but with the injury (broken collarbone) to starter Michael Young last week and the "suspension" of fellow sophomore Kevin Austin it has opened up a starting spot for Keys.  Expected to line up at Z receiver next to starters Chris Finke and Chase Claypool Keys brings quickness and the ability to get open along with tremendous speed.  Keys also has a firm grasp of the playbook which has earned him starting reps over fellow sophomores Braden Lenzy and Joe Wilkins Jr.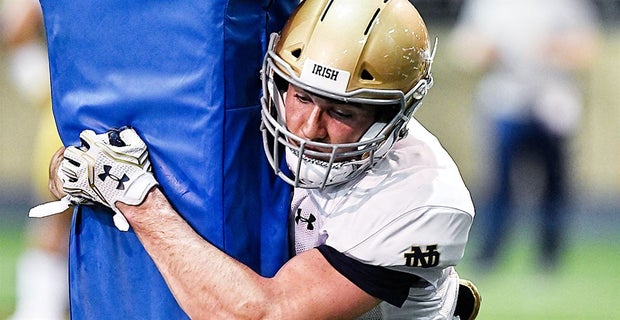 LB Jack Lamb - Right now it looks like it's a battle between Lamb and returning senior Asmar Bilal for the starting BUCK LB position.  Lamb is coming off injuries in both his senior season in high school and his freshman season last year but appears to be fully healthy now.  Lamb brings the length (6'4), speed and range rarely seen at the inside linebacker position at ND and I fully expect DC Clark Lea to unleash Lamb this season.  He's gonna be a great LB.
DT Jayson Ademilola - Last season Jayson played early on in his freshman season behind Jerry Tillery after Myron Tagovailoa-Amosa was lost to injury.  Earning the most snaps out of his class gave Ademilola valuable experience and he is expected to back up MTA this season.  But make no mistake Jayson could eventually earn the starters spot because he was highly efficient last season against the run (hint vs Georgia and Michigan).
TE Tommy Tremble - Tremble wasn't on my initial list like Keys III but after starter Cole Kmet suffered a collarbone injury too he is now the projected #2 tight end behind Brock Wright.  Tremble brings elite speed (timed in 4.5 coming out of HS) and has already formed a bond with starting QB Ian Book this fall.  Tremble reminds me a lot of Evan Engram coming out of Ole Miss.  He's basically a WR who can line up inside at tight end but blow past safeties and LBs trying to cover him.  If Book can hit him in stride expect a lot of explosive plays from Tremble this season.
Others: CB Tariq Bracy, CB/S Houston Griffith, LB Shayne Simon, WR Braden Lenzy, WR Kevin Austin, WR Joe Wilkins Jr, QB Phil Jurkovec, RB Jahmir Smith