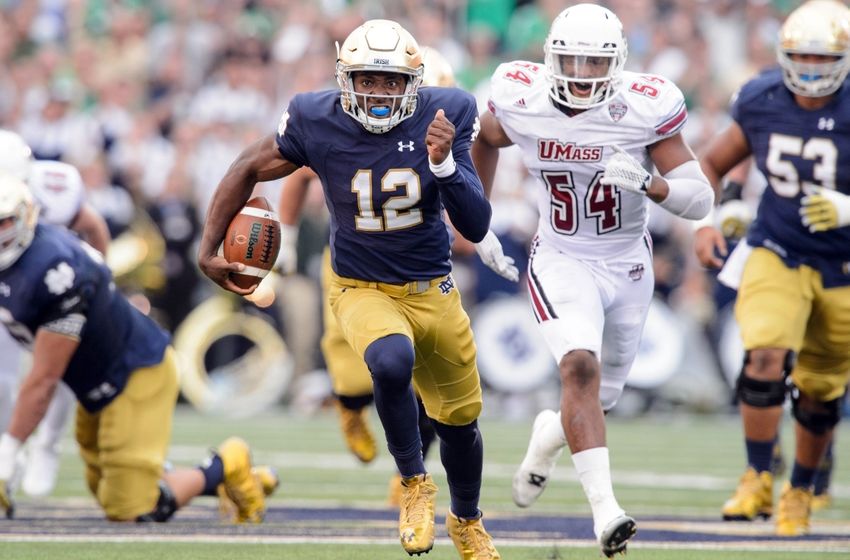 Notre Dame football is looking to rebound from a disastrous 4-8 season last year.  The coaching staff was shaken up with two "outside the Kelly tree box" hires in Chip Long and Mike Elko who will be the new coordinators.  It will be their job to get Notre Dame back to being a respectable program and perhaps save head coach Brian Kelly's job.  In order to do so they will need to get the best out of their top 25 players on the roster.
Let's take a look at the top 25 players on the Notre Dame roster.
1. Quenton Nelson, OG - The 5-star recruit has lived up to his lofty prep rankings and has been the most consistent, dominating force on coach Harry Hiestand's line.  Probably pound for pound the best guard in the nation.
2. Mike McGlinchey, LT - Shocked a lot of people coming back for his 5th season, McGlinchey is looking to rebound from a disappointing season which earned him the nickname "McFlinchey."  Make no mistake Big Mike will be protecting Brandon Wimbush's blindside and will be counted on to deliver his NFL 1st round potential capabilities in 2017.
3. Brandon Wimbush, QB - While it may shock some to have a player up this high who's never started a game at the college level if you have followed Wimbush's practice reports and the favorable returns from his teammates it appears Wimbush is a player who could put up Brady Quinn upper classmen like numbers in Chip Long's offense.
4. Nyles Morgan, MLB - No more complicated BVG defense means that this Chicago product will finally be allowed to unleash hell on ball carriers this fall.
5. Alize Mack, TE - Coming off a sophomore year suspension due to academics Alize returned with a new attitude and a new last name.  The return of the Mack means ND could have it's most explosive tight end weapon since Tyler Eifert.
6. Josh Adams, RB - Adams is the definition of a home run back setting a ND record with a 98-yard TD run his freshman season.  With another big season Adams could be looking to break his position coach, Autry Denson, school rushing record.
7. Equanimeous St. Brown, WR - Coming off a 961 yard, 9 TD receiving sophomore campaign the Irish have big hopes for ESB.  He along with the tight ends should be Wimbush's main targets this fall.
8. Daelin Hayes, DE/OLB - If you saw the spring game on NBC Sports you got a glimpse of what this season may hold for the 5-star prospect who didn't see the field much his freshman season.  A pass rushing specialist, Hayes could get double digit sacks in Mike Elko's new defense.  The Irish are counting on it.
9. Drue Tranquil, Rover - Elko's defense relies heavily on the play of a  "Rover" which is basically a hybrid safety/OLB who can tackle soundly and cover slot receivers.  Tranquil will get first shot and so far the reviews have been real positive for the upcoming senior.
10. 
Greer Martini, LB - While splitting duties last season with Te'von Coney Martini "Shaken, Not Stirred" finished with 55 tackles and 3 sacks on a horrible ND defense.  A heady player I expect Martini to have a coming out party like his teammate Nyles Morgan at the linebacker position.
11. 
Shaun Crawford, Nickelback -
When Crawford arrived 3 years ago he was being touted as the best secondary player on the roster as only a true freshman.  Unfortunately he's had two devastating season ending injuries and we've barely caught a glimpse of what he brings to the field. When he was playing though specifically vs Texas last year we all saw a game changer.  Here's hoping Crawford can bounce back and be the player we all know he can be.
12. Nick Watkins, CB - Watkins missed all of last season due to an injury after starting the previous Fiesta Bowl game vs Ohio State.  Watkins will be counted on to take away or at least contain the opposition's best receiver.
13. Jerry Tillery, DT - It would be hard to find more important players on the ND roster than Tillery.  Coming off a disappointing and rather embarrassing 2017 season in which he was ejected vs USC, Tillery will be counted on to be the clog in the middle of an unproven defensive line.  The talent is there but the ND staff is hoping Tillery can produce at a consistent level and be a wrecking ball up the middle.
14. Andrew Trumbetti, DE - 
In order for ND to have a good defense it needs to put pressure on the QB.  Trumbetti has been getting high praise by Kelly this summer during practice and workouts and looks to be one of those better late than never bloomers who explodes onto the scene his final year in the blue and gold.
15. Julian Love, CB - As a true freshman last season Love was thrown into the fire because of a lack of numbers at the position.  It should help him tremendously this season and he will be counted on as a starter game 1 vs Temple.
16. Jay Hayes, DE - 
Like Trumbetti it's put up or shut up time for Jay Hayes.  A highly sought after 4-star player coming out of high school, for whatever reason Van Gorder never wanted to play Jay.  This year will be his opportunity to shine in Elko's new defense.
17. Tony Jones Jr., RB - Somewhat surprising since Dexter Williams is the upperclassmen on the running back depth chart the scout team player Jones has been splitting first team reps with Adams all this summer.  His hands are extraordinary and he will be a huge part of the offense this fall.
18. Chase Claypool, WR - Probably one of the most intriguing players on the ND roster.  Not many players have his combination of size (6'4) and speed but he's gotta work on being more consistent with his hands to earn Wimbush's trust.  If so the sky is the limit for the Canadian product. 
19. Alex Bars, OG - Kelly once described Bars as one of the best linemen he's ever coached.  The scary thing is he's not even the best guard on the roster.  That belongs to Quenton Nelson.  The ND line should dominate this season thanks to Bars contributions.
20. Donte Vaughn, CB/S - Vaughn is another young secondary player who got thrown into the fire last season as a true freshman.  Vaughn is versatile enough to play either corner spots or starting safety.
21. Durham Smythe, TE - With Chip Long running more two tight end sets and putting an emphasis on getting the ball into the tight end's hands I fully expect this senior who is considered an outstanding blocker to blossom along with Mack.
22. Kevin Stepherson, WR - As a true freshman Stepherson came in as an early enrollee and put up a more than respectable 462 yards receiving along with 5 TD catches.  The problem is he appears to be in Kelly's doghouse but to a lack of motivation in practice.
23. Nick Coleman, S - Coleman appears to have transitioned to free safety rather smoothly after playing cornerback his first two years.  With ballhawk skills this free safety will definitely be a lot more athletic and speedy than last years starter in Avery Sebastian.
24. Tommy Kraemer, RT - Just a redshirt freshman Kraemer appears to be the starting tackle opposite McGlinchey.  Hiestand fully expects him to compete or be the starter there for the next 2-3 years.
25. Justin Yoon, K - YOOOOOOOON!  While Yoon set many ND records his freshman season of kicking in 2015 his numbers in 2016 did dip including his field goal percentage.  He still hit 13 of 17 kicks but all of them were 40 yards or below attempts.