News / dansby swanson
Hey @Bharper3407, one hair dryer wasn't enough? 😂 pic.twitter.com/l8hbpUWI7E

— Bryan Harper (@BryanHarper45) April 11, 2018


With a mop that permeates off Bryce Harper's head it's not surprising he needs a couple of hair dryers to keep the flow going strong. Harper was caught by his brother Bryan (no doubt Dad calls the brothers the wrong name all the time) in mid blow dry at what appears to be some shitty hotel with only two hair dryers.  I've never actually seen someone two fist hair dryers at one time so this was a little bit shocking.  Not a shocking walk in and seeing your parents doing it shock but more of a shocking when you see a guy putting on women's panties shock.  We know it happens but we just choose or deny wanting to see it.  And since Harper is Mormon we are much more likely to see him two fisting his hair then a couple of cold Natty's on a hot summer day.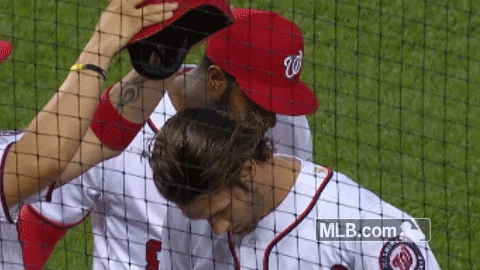 Harper can do what ever the fuck he wants to do with his hair as long as he keeps mashing like he has this season.  In his walk year from the Washington Nationals (calling it now he will be a Cubbie) he's going to be able afford to buy the CONAIR corporation with the massive contract he gets this offseason.  So keep it flowing Bryce you wonderful Lion mane beast.  But remember Bryce no matter how much conditioner, product or hair dryers you use you will never come close to the flow that is the great Dansby Swanson.
Read more →
---
First the walk off hit...
— Atlanta Braves (@Braves) April 18, 2017
Then the ice bath from Freddie Freeman...
— FOX Sports: Braves (@FOXSportsBraves) April 18, 2017
Now this is how you christen a new stadium!
The Braves opened SunTrust Park on Friday and finished their first 4-game sweep (still undefeated at home) in dramatic fashion last night as rookie SS Dansby Swanson delivered the clutch bases loaded single in the 9th inning.
Swanson who came in struggling with the bat even though he's hit the ball solid just right at people delivered the first ever walk off hit in SunTrust Park history.
Swanson joins Hank Aaron (1966 - Fulton County Stadium) and Andruw Jones (1997- Turner Field) in the first ever stadium walk off department hits.  With the win the Braves get back to the .500 mark at 6-6 and now welcome in their division rival the Washington Nationals.  Hopefully the only thing cooling off the Braves was the ice bath Swanson received last night via teammates.
In the meantime #ChopOn and buy some shirts!!!!
Read more →
---
---
---