Drue Tranquill, Sam Mustipher and Tyler Newsome named 2018 Team Captains. #GoIrish ☘ pic.twitter.com/5BXgNe9nbu

— Notre Dame Football (@NDFootball) March 6, 2018


No surprise as Notre Dame head coach Brian Kelly named 5th year seniors LB Drue Tranquill, C Sam Mustipher and P Tyler Newsome as the team captains heading into spring practice today.
Tranquill comes back for his 5th year after an excellent senior season at the ROVER position.  Tranquill has natural leadership abilities and tends to be the vocal leader of the defense.  He will be counted to make an even bigger impact this season as the defense returns 10 starters but will be moved from the ROVER position to more of a middle linebacker position along with Te'von Coney.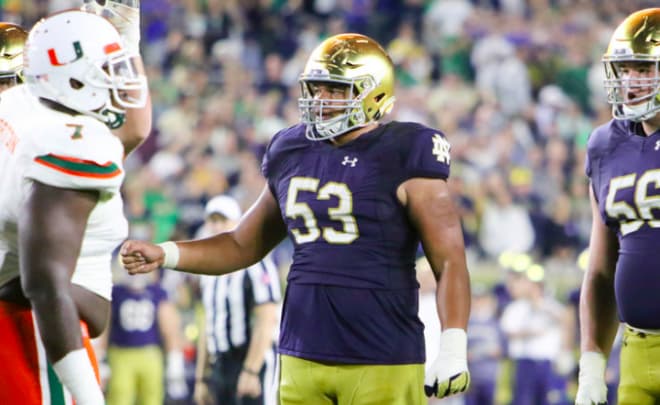 Offensive center Sam Mustipher also returns for his 5th season and should anchor a strong offensive line that returns 4 starters (minus All-Americans Quenton Nelson and Mike McGlinchey).  Mustipher has had an up-and-down career but had an impressive senior season leading the Joe Moore Award winning offensive line last season.
Maybe the only surprise is punter Tyler Newsome getting named a team captain.  And honestly it shouldn't be a surprise.  Newsome also returns for a 5th season and he's been the team punter for 3 seasons already.  He's also a big community leader and is well respected by his fellow teammates and coaches both on the field and off.
Hello world!

New Notre Dame captain Tyler Newsome introduces himself to the masses today. pic.twitter.com/wGDU3q51ml

— Pete Byrne (@PeteByrneWSBT) March 6, 2018
With these 3 team captains you get someone representing each personnel group with offense, defense and special teams.  Kelly also announced today that there would be a 4th captain named after spring practice is complete.  Basically whomever steps up and earns the respect from his fellow teammates.  Right now my thoughts would be rising junior defensive back Julian Love is the favorite because he played at an extremely high level throughout 2017 (named All-American by some pundits) and was a vocal leader and motivator with the defensive backs.  Love has future coach written all over him.
Spring practice officially started today.  Notre Dame will get 14 practices in with a spring break in between before the 15th and final practice aka the Notre Dame Blue-Gold Spring Game on April 21st.